Unfortunately, many Americans feel obtaining financial independence is impossible, so they don't try to achieve it.  Instead, they live day to day, buying their cars, furniture, clothes, and everything else on credit.  They have debt and think that it's just a way of life.  But it doesn't have to be.  If you want to live differently, save and invest like this to become financially independent.
How to Save to Become Financially Independent
One of the first steps on the path to financial independence is to stay out of debt.  However, that's not enough to get you where you want to be in a few decades.  You must also learn to save regularly.  Try these strategies:
Always Pay Yourself First
If you put money in savings whenever there's leftover money, you'll probably never put money in savings.  Instead, flip that way of thinking.  Save money first.  When you start saving, go ahead and start small.  Maybe you only set aside $20 per paycheck.  The important quality here is establishing a habit of saving.  As your finances improve and you earn more, start saving more.
Make Some Sacrifices
For many people, achieving financial independence requires some sacrifices.  For instance, for the first 14 years of our marriage, we had only one car.  My husband took the train to work every day.  Sure, doing that was sometimes inconvenient for him, but we saved so much money not paying for a second car and the additional insurance premium, maintenance, and gas.  If we ever move to a location with good public transportation again, we'll likely go down to one car again.
Delay Gratification
In addition to making sacrifices, those who achieve financial independence also learn to delay gratification.  You'll likely not make too many impulse buys.  If you want a new dishwasher, for example, you'll save to pay cash and take the time to shop around and pay the best price.  If you want a nice new car, you might way a decade or more to buy it, instead driving the car you currently have until it dies.  That's okay.  Once you achieve financial independence, you'll find your sacrifice and ability to delay gratification worthwhile.
Create Sinking Funds & an Emergency Fund
One of the most important things you can do to keep yourself out of perpetual debt is to create sinking funds and an emergency fund.
Sinking Funds
Sinking funds should be set aside for the yearly and semi-yearly expenses like house insurance, car insurance, property taxes, HOA dues, and other budget items that are paid ever six months or yearly.  Likewise, you should have sinking funds for random expenses that don't occur at a set time such as medical bills, car repairs, home repairs, etc.  When you create these funds, you can easily pay the bill when it's due without it affecting your regular monthly budget.
Emergency Fund
When you have sinking funds, when you've planned for the irregular expenses you face every year, your emergency fund can then be used for true emergencies.  Depending on the stability of your job, experts recommend that you have three to six months' living expenses in your emergency fund.  This fund is only used for true disasters such as job loss or medical bills should someone in your family face a serious illness.
By having both sinking funds and an emergency fund, you buffer yourself from the unexpected expenses that can derail so many budgets.
Try These Savings Apps
| App | Fess and minimum: | Best for: |
| --- | --- | --- |
| Digit | 30-day free trial period. $5 per month | Setting aside automatically |
| Acorns | $1 per month | Spare change investing. |
| Qapital | $3 membership | Letting you set rules to automate savings. |
How to Invest to Become Financially Independent
While saving is important, investing is equally important on your path to become financially independent.
Start Early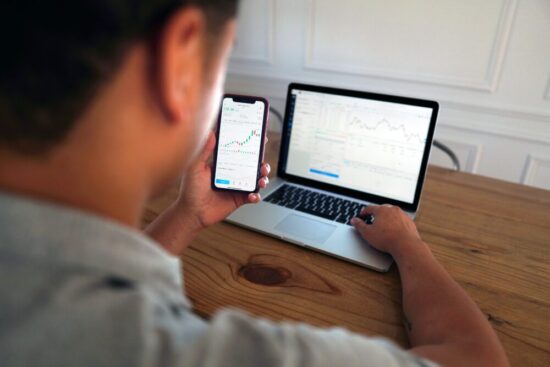 The single best thing you can do to become financially independent is to start investing early.  Teens can even invest in a Roth IRA if they have a regular job.  The amount you need to invest, should you start at a very young age, is much less than if you start investing twenty years later.  However, if you are older and haven't actively invested much, now is the time.  There's no better time than now.
Take Advantage of a Company Match
An easy way to begin investing is to take advantage of your company's retirement match.  This is essentially free money to help you become financially independent!  For instance, if you're employer matches the first 4% of your salary that you invest, that means you should invest at least 4% because then with the employer's match, you're investing 8% of your salary for the price of 4%.  If you make $100,000 and invest $4,000 a year (4% of your income), and your employer matches that, you're now investing $8,000 a year.  That is a huge bonus!
Always Rollover Your IRA
If you leave a job, always rollover your IRA.  When you're young or you only have a small amount in your IRA, cashing out the money is tempting.  After all, you have plenty of time for saving for retirement.  However, that money can grow and grow if you take it with you and roll it over.  You've already done the hard work of investing.  Now, roll it over so it can keep working for you.
Hire a Professional If Need Be
For many people, the idea of investing is scary or intimidating, so they just don't do it.  However, you can never achieve financial independence if you don't invest.
There are plenty of free resources available to teach you about the many different investing options, but if you still don't feel comfortable investing, hire a financial planner.  Yes, you will pay money in fees, which isn't ideal, but paying fees is better than not investing at all.
Invest No Matter the Economy
Likewise, many people invest money, but then, when the economy crashes, they panic and pull out their money.  This is a sure strategy to avoid financial independence.
The savvy investor ignores the highs and lows of the market and stays the course with investments.  There will always be ebbs and flows, but remember that overall, through the years, people make money by investing.
You'll do even better if you train yourself to see the stock market lows not as proof you're losing your money, but as a perfect opportunity to invest more.  You're likely able to buy stock at the lowest price.  When the economy rebounds, you'll make more money.
Apps To Try
Platforms:
Fees and Minimum:
Best for:
Robinhood
Free
Beginner investing
Acorns
$1 per month
Spare change investing
Ellevest
$1-$9 per month
no account minimum
Investing for the future.
The Motley Fool
$99 for the first year.
Stock advising
Final Thoughts
Achieving financial independence isn't easy.  However, follow these steps, and you'll be well on your way.
What would you add to this list to help people gain financial independence?
Read More
How to Make a Plan for Financial Independence
Reached Financial Independence–Now What?
Passive Vs. Active Investing