Updated on Jan 20, 2021 by Myilraj G  |  0 Comments
Working from home has several perks, whether it is for someone who has recently adapted to this or for someone who has been regularly doing it.
There have been several ways women can make money from home. The Internet provides too many opportunities for homemakers or stay-at-home moms who want to attend to family responsibilities and have a striving career.
A few years back, there was just monotonous work that was available, however, now it not only has become more creative and challenging but also allows them to work at their own pace and convenience.
In this article, we will discuss the best work from home opportunities that are not redundant and yet doesn't demand or come in between your family time.
We will also discuss several authentic platforms that not only guarantee you a job but also ensure that you can work according to your own convenience.
1. Data Entry
This is the most common work from home job and you can find thousands of them listed on job websites.
There are so many opportunities available for women to make money and in them, Data Entry jobs are highly common.
Many companies are searching for women to work in this position either from home (or) in their office.
Another common job offer is call center and entry-level transcriptionist jobs. If you are having good typing skills and possess suitable requirements, you can earn a lot.
Data entry jobs require a good typing speed, and experience. You can work from home as and make some decent monthly revenue as well.
2. Online Mentor
The pandemic has given a great impetus to all the tech platforms. However, edtech has witnessed major changes with a plethora of opportunities.
Not only have more and more students started enrolling online, the demand for online mentors has also witnessed a surge.
One of the best platforms that train you and guarantee you a job as an online mentor is eMaester. You can work as an online mentor according to your own convenience and eMaester will provide you with the students.
All you need to do is focus on your skills as a mentor! You will be trained to be a language mentor, UPSC or IELTS teacher, or a STEM trainer.
On average, a mentor who spends 4-5 hours a day, earns Rs. 30,000 to 40,000 per month. The only requirement to become a mentor with eMaester is that you should have a Bachelor's degree.
3. Conducting Online Workshops and Seminars
Several firms and MNCs conduct regular workshops and seminars for their employees.
There are several online seminars conducted as well and it can be a great earning opportunity for people who have great public speaking skills.
If you feel that you're still not confident about your public speaking, then don't worry as eMaester is a one-stop solution for anyone looking for work from home opportunities.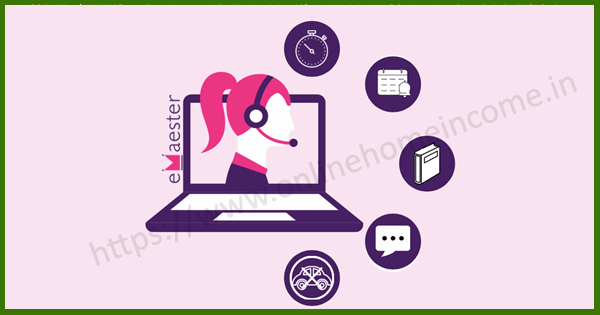 uFaber, eMaester's parent company conducts workshops and seminars in every metro city at least 5 times a month.
If you can develop your personality as a public speaker with them, you will be eligible for this lucrative option. Tata, Mahindra, DCB bank, Crompton, and Grieves are only a few of many corporates which they service around the year.
eMaester provides online corporate training for women to make money. This company also provides offline training at more than 30 different locations in India.
Females can associate themselves with several celebrated business houses. With eMaester you can easily find a side hustle without worrying too much about searching for jobs online.
4. Social Media Management
Social media is not just a mere platform to browse but needs to be taken very seriously by every firm or big companies to engage with their audience.
Several companies have an in-house social media team but several others lookout for freelancers to handle the same. If you have a hunger for design and content creation, you can easily find a suitable job.
Also, you should be aware of companies marketing goals and how they engage with their audience. How they got their message to reach the public? Learning all these can help you create a long-term career as a social media manager.
5. Content Writer
Every brand needs the perfect content for their website or any other communication platform.
If you're good at writing skills, then you can always opt for freelance content writing. If you're not formally trained, then don't worry as eMaester also offers content writing.
eMaester has interesting content projects wherein you can develop your writing skills while working from home.
Not just that, they are currently even hosting an online competition wherein winners will be awarded prizes above 1 lakh. Here are the other details: