This post contains affiliate links, which means I may receive a small commission, at no extra cost to you, when you make a purchase.
Sometimes you have to think outside of the box when it comes to making money online. It's interesting what people will pay for these days and you may be surprised to learn that you can earn money by selling pictures of your feet.
If you're wondering how to sell feet pics online, your first question should be 'who buys feet pics in the first place'.
Well, lots of bloggers, marketers and other companies may buy feet pics to help them promote content or products.
Think about how people sell socks, shoes, or report on topics where your feet pictures may come in handy. This is an easy work from home opportunity that doesn't require much to get started.
Below, I'll share where to sell feet pics, plus the best tips to make the most money for them.
Now, let's go onto selling feet pictures!
If you want to know how to sell foot pictures online for extra cash, here's what you need to know.
Best Places to Make Money Selling Feet Pictures Online
It sounds easy enough, but you may be wondering 'where can I sell pictures of my feet for money?' by now. There are many legitimate places to do this.
Some of your options may include selling pictures of your feet (feet only) to people who have a foot fetish or just like seeing pictures of feet.
Keep in mind that there is nothing wrong or illegal about selling pictures of your feet only.
If you are not interested in doing this, there are still other options to sell feet pictures online. Here is a list of where to sell feet pics in America.
1) Instafeet
Instafeet is one of the most popular websites to sell pictures of your feet. Thinks of it as Instagram, but only for feet pics.
Create a profile and verify your identity to get started. Share a few pictures of your feet in the hopes of getting subscribers that will pay for more feet pictures.
Most Instafeet users charge a monthly subscription fee that's less than $10. That way, it's affordable and easy for people to sign up. You'll receive your own profile link that you can promote on other platforms if you wish.
Instafeet does not just accept everyone who wants to create a profile. Your profile must be reviewed which could take up to 3 weeks. Even then, there may be a waiting list to join.
Instafeet takes a 10% cut from your subscriber earnings and payments go out on the 1st and 15th of every month. You'll need a valid ID with your age in order to sign up and get paid.
Related: 15 Hobbies to Make Money in 2020
2) Start a Blog
Have you ever thought about creating a blog about feet? Serious question! If you Google something like 'how to take better care of your feet', you'll see a ton of articles come up.
This means people are actively searching for this topic and there's plenty of room for more content. 
Consider starting a blog about foot health, supportive shoes, shoe trends, or even products you use to treat dry skin. Add your own pictures to enhance the blog posts and promote them.
You may not actually make money selling pictures of your feet, but your feet pictures can still help you grow your blog's traffic so you can monetize it.
Bloggers can make money in a variety of ways including affiliate marketing, writing sponsored posts, and display advertising.
Here's how I made $4,789 blogging in January to give you some inspiration.
3) Facebook Groups
If you're wondering how to sell feet pictures, Facebook is a solid place to start. Yes, there are private Facebook groups dedicated to helping people buy and sell feet pics.
Be mindful of the rules for each group and if you come across a group with strict rules this is often a good sign.
Admins help regulate and moderate the community so people are courteous, respectful, and scams are not allowed. Keep contact on DMs limited and make a safe transaction using a platform like PayPal.
4) Create an Instagram Page
If you want to market your feet pics to interested buyers, consider creating an Instagram page where you post some feet pics for free. Use hashtags related to your feet pictures and start building up a following. 
From there, you can market exclusive feet pictures that you sell or even an online store if you have one.
Consider setting up a membership site where customers can pay each month for some new feet pictures. Selling around 5 to 7 pictures in a monthly package is a good idea to start. Set themes for the month whether it's crazy socks, sandals, barefoot, etc. 
Remember, just because you have an Instagram page doesn't mean you have to show pictures or your face or keep comments on. Use your Instagram solely as a tool to market your feet pictures and sell them to paying customers.
5) Start Selling Feet Pictures on Foap
Foap is an app that allows you to sell your images to brands, agencies or other users. Americans take 80 billion photos each year so Foap makes it easy to sell your images online and this includes feet pics.
If you're wondering how to sell feet pics on Foap, it's simple. Just download the free app to your phone, sign up for an account, and upload your best photos to sell.
Each photo on the app generally sells for $10 and Foap will split the earnings with you 50/50.
You can take quality pictures of your feet that may be used in ads, marketing materials, or even for blog content.
6) Stock Photo Companies
If you're interested in learning how to sell feet pics as a beginner, start by contributing image to stock photo companies.
There are so many stock photo companies out there these days and many of the paid sites will buy your photos.
You'd be surprised at how many people may download feet pictures for various purposes. Deposit Photos pays contributors $0.30 – 37.4 per photo download.
They have over 260,000 feet photos currently so this is obviously a category that people are interested in.
Shutterstock is another stock photo site that pays you every time a photo you submit is downloaded. They have over 2 million images of feet but I'm sure there is still room for more pictures and creative content.
Think about what people may be using your feet pictures for.
Consider taking images that would be easy for a food doctor to use or some of your feet in the sand which would be great for a travel business.
You can also take pictures of your feet in different kinds of socks to match various different themes so you can get more downloads. 
Related: 8 Online Jobs That Pay Daily
7) Become a Parts Model
Think you have cute feet? Consider becoming a parts model which is someone who only models a specific body part, like their feet for example.
Foot models are commonly used to take pictures that will become advertisements for shoes or other products and services. 
In addition to shoes and sandals, foot models may be hired to work with home-ware brands, pharmaceutical companies, beauty brands, and jewelry designers. You may be asked to do some work on-site but this could also be a remote opportunity if you have a good camera. 
Start by developing a portfolio with high-quality feet pictures. That way, you can pitch yourself to modeling agencies that work with parts models.
An agency can help market you to brands so you can land paying work. For example, Closeup Modeling Agency works with feet models and makes it easy to hire them right from their website.
8) Create and Sell Footprint Signs
If you're thinking 'I don't want to use Facebook groups or websites to sell pictures of my feet' this may be a better option from you. Etsy is an online marketplace where people can sell creative goods and digital products.
There are a few Etsy sellers who sell feet pics in packages of 5 to 10 pictures, but you can also sell other items with pictures of your feet. Think about selling toe rings on Etsy and using your feet to model them for customers.
You can also create your own temporary tattoos. The top seller on Etsy for foot tattoos has 3,500 reviews and has made over 36,000 sales.
Turn your feet pics into a digital product as well. You can create footprint signs or even a digital drawing of your feet. You never know what will sell online. This feet drawing can be sold anywhere from $5 to $27 depending on what type of product you'd like. 
Feet pictures can be sold as digital printables on Etsy and you can add a sassy quote so customers can use them as decor.
6 Tips to Sell Feet Pics Successfully
If you want to know how to sell foot pictures successfully, we've already covered the first part which is knowing where to sell feet pics in America. Now, let's talk about the common do's and don'ts since you're probably not the only one out there with nice feet. 
Here are 6 things you can keep in mind the next time you consider selling feet pictures for extra cash.
Tip 1: Care for Your Feet
This should go without being said, but take good care of your feet if you want them to look good in pictures. You may want to consider getting a pedicure at least once a month, or practice caring for your feet with certain products on your own. 
Keep your feet clean and dry. Also, change your socks and air out your shoes to prevent infections. Apply quality moisturizer before going to bed and trim your toenails regularly.
There are also plenty of YouTube videos and tutorials out there to help you learn new tips and techniques to keep healthy feet that are treated well.
Get into the habit of taking good care of your feet and make it a daily routine so it seems natural to do.
This video shows how to care for your feet.
Tip 2: Take High-Quality Pictures
If you want to start selling feet pictures, be sure to take quality photos that will entice people to buy. If you look at the pictures on stock photos sites or apps like Foap, you'll see that the photos for sale look high quality and professional. 
The good news is, you don't need a professional camera or tons of equipment to take nice feet pictures. Oftentimes, you can use your smartphone camera. 
Start by making sure there's good lighting. Take pictures near an open window or invest in some lighting equipment from sites like Amazon. This doesn't have to be expensive.
Lighting equipment starts at just $40 on Amazon and can make a huge difference. Still, you can use natural light and artificial light that already exists in the room to help brighten up your photo. Or, simple find the light and face toward it if you're doing an outdoor picture.
Also, play around with different settings on your camera to test out different levels of quality. Make sure you have a clutter-free background or consider setting up a few prompts for the frame to make your picture look more fun. 
After you take your feet pictures, realize you can always edit them online to make them look even better. There are plenty of photo editing sites that are free or cheap to use.
Tip 3: Learn Different Feet Poses
Learning some different foot poses will help you understand how to sell feet pics successfully and offer plenty of variety. Luckily, learning feet poses is much easier than learning full-body poses for traditional modeling. 
Start by looking at other feet pics online, shoe ads, and other foot modeling images to get an idea of which poses you can try.
If you're taking your own pictures, pay attention to the camera angle or even use the timer function on your camera. This will allow you to have enough time to get into position and take high-quality pictures hands-free.
Get creative and see which poses will help your pictures stand out. You'd be surprised at how many feet poses you can try and test which pictures sell better than others.
Take a few pictures barefoot, with socks, with shoes, and use a variety of poses to provide different options for buyers. This may seem like a lot of work but it's actually pretty simple to do.
Once you get the hang of it, you should be able to try several different foot poses and get some great shots all in one sitting. 
Tip 4: Keep Your Feet Anonymous
Realize you don't need to actually share pictures of your face or other parts of your body to successfully sell feet pics. Be wary of sites that claim you need to do this in order to make money. Remember, you don't have to do anything you feel uncomfortable doing. 
If you're selling pictures of your feet through Facebook groups or other websites, keep things strictly transactional. You don't have to talk to the person who's buying your feet pictures unless it's to answer a question about the order. Set up an easy payment link through PayPal, Stripe, or SendOwl. 
Another reason why you should keep your feet anonymous is due to the fact that you don't know where the images will go when people buy them.
They may be used on a blog or for a marketing campaign but people can't identify you from a picture of your feet. You may not want your face all over the internet and that's understandable.
The only reason why you may not want to keep your feet anonymous is if you are a foot model and actively looking to make connections and land more jobs.
Tip 5: Dedicate a Unique Email Address to Selling Feet Pictures
It doesn't cost anything to start another email address and I highly recommend you do this when you start selling pictures of your feet. For starters, it's best to keep all communication separate and keep track of orders and payments with a separate email address.
Another reason is that most people who sell feet pictures don't really want to disclose their real identities. If you did, you might as well sell pictures of your face of you spending time with friends and family.
You probably don't want your name, personal email address, and personal social media profiles to be connected to your feet selling side hustle and that's understandable. 
Keeping a separate email address just adds a layer of protection if you need it and makes it easier to stay organized. Once you have a new email address, you may also want to create a new Facebook profile specifically for Facebook groups that help you sell feet pictures.
Tip 6: Watermark Your Pictures When Previewing Online
Don't forget to put a watermark on feet pictures you're showing before you actually sell them. You may not have to do this if you're selling pictures on an app like Foap. However, you just don't want your feet pictures all over the internet or for people to download them for free.
If you're in a Facebook group for example, and you're promoting pictures of your feet to sell, make sure you put a watermark on them first. That way people can see a preview without the entire image.
It's easy to put a watermark on the image and or/slightly blur it with online photo editing tools.
Sites like Canva and PicMonkey are great for editing images and creating different effects. You can create your own transparent watermark with your name, nickname or any other graphic and use it to cover the image preview until a customer buys it.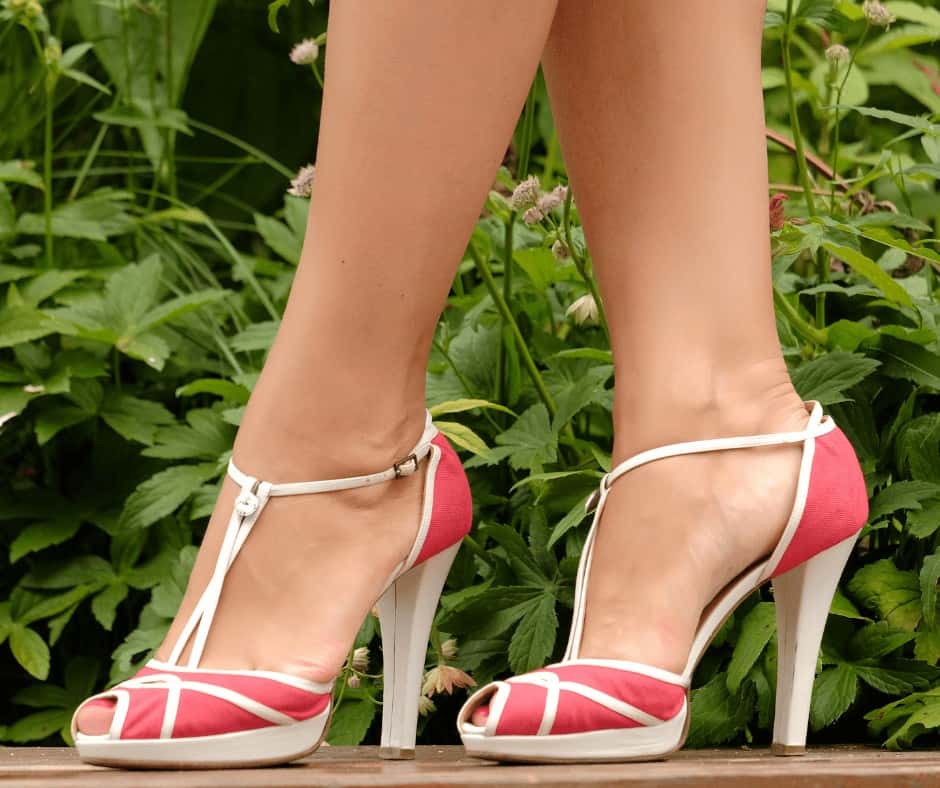 How to Sell Feet Pics and Actually Make Money
Just like with any other job or side hustle, if you want to actually make money selling feet pics, you'll have to work at it. Use the tips above to increase your chances of being successful but keep in mind you'll also need to know what to charge.
Selling pics on Foap is easy because most images will cost $10. However, if you're a foot model or sell privately in a Facebook group you can set your own princes and potentially earn more.
Consider selling feet pics for anywhere from $5 to $25. This seems like a range most other sellers are using. 
With sites like Instafeet, the option to build a following and get paying subscribers can increase your earnings over time.
If you charge a monthly fee of $8 and get 40 subscribers, that's $320 per month. Just by taking pictures of your feet. See if you can promote your Instafeet profile in some particular way to increase your chances of getting subscribers.
If you're thinking of selling feet pics on Etsy or another online marketplace, get creative and consider trying out different digital products or selling packages of pictures for one flat fee.
Theme your packages based on the type of pictures like 'feet on the beach', 'sandals', 'holiday-themed socks' and other categories.
Selling feet pictures online is probably not going to make you rich or allow you to be able to quit your day job. Still, it can provide some decent extra income for very little upfront work.
Related: How to Make $50 a Day Fast
You Can Really Sell Pictures of Your Feet for Money
Yes, I know it may sound odd but this is a real way to make money. If you want to sell feet pics, it doesn't have to be tasteless and can be done solely online.
Prioritize taking good care of your feet and see which options you feel most comfortable from this list. 
If you'd like to start off with 2 or 3 ideas from the list above, this could be a helpful way to optimize your earnings.
Low-effort side hustles like this one are great for people who are already busy enough with their daily schedule and have very little time to work a second job for extra income.
Being able to work from home (or anywhere) and make money on your own time is a highly sought-after arrangement.
Liked this Post? Share It on Pinterest!
Virginia Nakitari is a full-time blogger and a work from home expert. Join Virginia and 200,000 monthly readers on EarnSmartOnlineClass to learn how to make money online, even as a beginner. Before starting this blog, Virginia worked as a freelancer, specializing in general transcription and virtual assistance. Her wide clientele comprised of business coaches, podcasters, bloggers, and other online entrepreneurs. It's through these interactions that Virginia developed a knack for writing and showing people how to work from home, make money online and attain financial freedom.