The video game industry is worth over $150 billion. As someone who loves to play video games, I know how much it costs to buy new games. One way I make cash to pay for new games is to sell my video games that are no longer in use.
If you are like me, and have games that are collecting dust, brush them off and get ready to sell them online.
Where to Sell Your Video Games
We checked out some of the top places to sell video games and here is what we came up with.
1. Decluttr
A popular site that sells anything electronic is Decluttr. You can sell video games, game consoles, tech devices, CDs, DVDs, and books on this site.
Theoretically, Decluttr can be more efficient than having a yard sale or listing each item individually because they accept so many different items.
Decluttr only accepts games from the PlayStation, Xbox, and Nintendo consoles.
Some of the most coveted Nintendo games are Donkey Kong, Super Mario Bros and The Legend of Zelda.
To get started, enter the barcode from the video game case. Shipping is free and you can get paid by direct deposit, PayPal, or paper check. A free shipping label will be sent to you.
You only need to sell $5 of goods to get started and payment is sent the next business day after Decluttr receives your items.
2. Swappa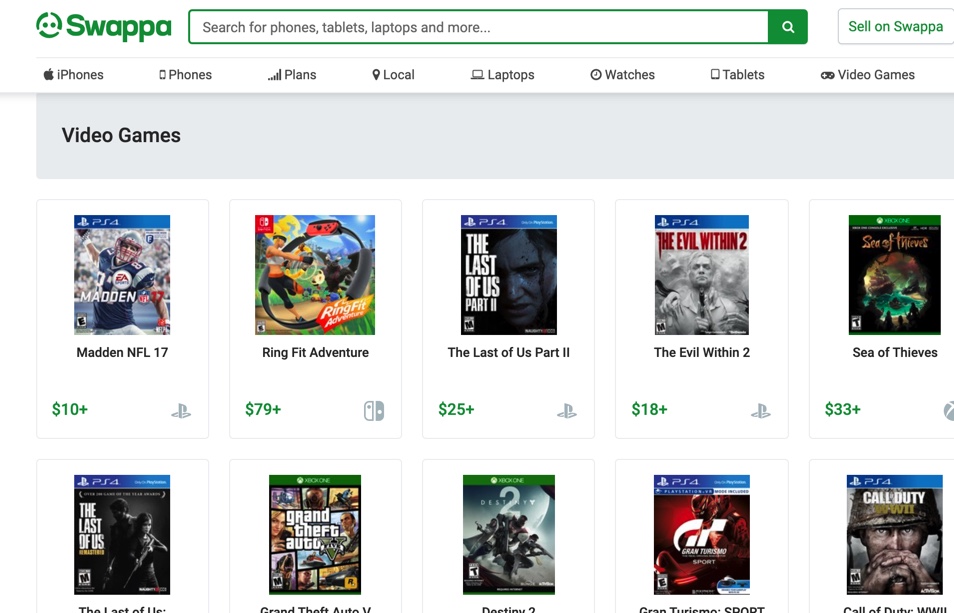 Wanna cut out the middle-man and sell your games directly to the buyer, then Swappa is a great choice.
Simply create an account and start selling. Enter the information about your game or console, upload a few pictures and choose a price. Swappa will even suggests pricing based on similar items.
Once you have created an item to sell, the Swappa moderation team will approve. When approved, your item is added to the Swappa marketplace. When it sells, you get paid via PayPal.
Swappa is very clear on not accepting junk. Every product has listing requirements and an approval process to ensure confident shopping.
Other items to sell on Swappa:
Retro Games
Cell phones
Consoles
Gaming accessories
Laptops and tablets
2. Craigslist
Another option is to sell video games locally on Craigslist. This can be the most financially lucrative option because you get to keep all the profits. That means no shipping costs and no "middle man" commissions.
Selling locally can require a larger time investment as you will have to respond to text messages, phone calls, and e-mails.
Plus, you will need to meet the potential buyer at a public place. To increase your exposure, you might also consider selling on a Craigslist alternative.
3. GameStop
Every avid gamer has at least visited a GameStop at least once in their gaming career.As the most successful brick-and-mortar video game store franchises,
GameStop has a large presence in the gaming arena for in-person and online stores. This means you can sell or trade-in your games online or at the local GameStop store.
If you trade your old video games in for store credit, you will receive a larger credit as GameStop offers up to a 60% credit on game trades.
You can also sell for cash or store credit:
Gaming consoles
Accessories
Tablets (like iPads)
Cell phones
Smartphone
4. Amazon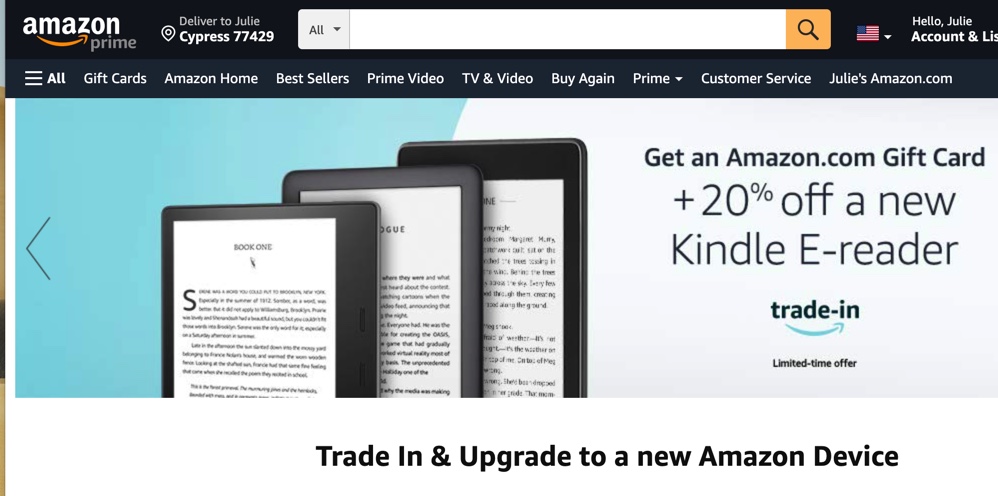 Amazon allows you to trade-in your old video games or you can sell video games as a third-party listing. If you need the cash immediately, choose the trade-in option as you can enter into a "price war" with the other sellers.
And, no matter how high or low you price your product, you still need to wait for somebody to buy it.
Keep in mind that the Amazon trade-in program doesn't always have the highest pay rate and selling your games can be more lucrative.
5. The Old School Game Vault
If you have classic games to sell, you might consider The Old School Game Vault. You can sell and buy retro and current titles here including your old consoles.
The Old School Game Vault will buy back many games, but, there are a few limitations. They will not buy any sports games that are more than a few years old.
There is also a $25 minimum order to make a sale and free shipping doesn't kick in until you are selling at least $50 in games and consoles. All payments are made via PayPal.
6. DK Oldies
DK Oldies is another place to sell your retro video games from Atari 2600, Game Boy, Game Boy Color, and many other Sega and Nintendo platforms.
They do have a $50 minimum selling requirement to receive free shipping.
You can also get a 20% bonus when you exchange your games for store credit. Besides store credit, you can also be paid by PayPal or check.
There is a partial listing of games and systems that DK Oldies is currently interested in buying. If a particular game isn't on the list, you can e-mail or call DK Oldies to see what the possible purchase price can be.
7. eBay
When you want to sell your collection to the highest bidder or want exposure to one of the largest online marketplaces, try eBay.
It can also be a good option if you want to sell your game account or in-game merchandise like currency or other talismans that are trade-able yet time-consuming to accumulate.
With eBay, you can create auction listings, "Buy It Now" instant sell listings that also allow you to accept counteroffers. Selling on eBay can be a good option if you might prefer to sell a bundle instead of listing each item individually.
For example, if you simply want to sell your old Nintendo 3DS with your 13-game collection to get a higher selling price and save on shipping costs.
If you have an in demand item like a Nintendo Switch take a look at the recently sold items before steting a price.
eBay also makes it easy to create a storefront if you want to become a volume seller. Individual sellers can also get 50 free listings each month and seller fees can be cheaper than Amazon.
8. Gameflip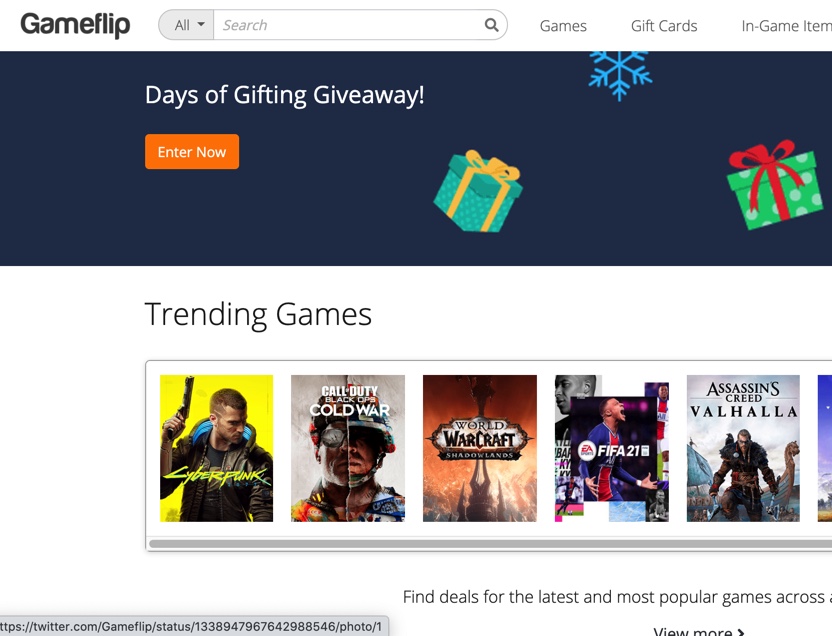 Gameflip is another site that allows you to sell physical or digital video game items. For physical items, you can sell game discs, video game consoles, toys, and accessories.
You can only sell physical items if you live the U.S. because Gameflip only ships to U.S. addresses. For digital items, you can sell in-game items and skins, CD codes & keys, gift cards, and digital movies.
You get paid once your items sell and will ship the physical items directly to the buyer. It is possible to withdraw your profits at any time to your bank account, PayPal, or for Gameflip store credit.
9. PlayerUp
Another site that allows you to sell player accounts in PlayerUp for RPG, sports, action, and even Xbox One and YouTube accounts.
There is a 20% commission fee when you sell your account and discounts are available for bulk sellers. Or, you can also trade accounts with other PlayerUp users too.
When you sell with PlayerUp, there are over 20 different payment methods including PayPal and Skrill.
Before selling your video game account, read the terms and conditions as not every video game company allows users to sell their account for real money. If the manufacturer discovers policy breach, your player account can be shut down.
10. Facebook Marketplace
Moving your used videos from a pile to sold is easy with Facebook Marketplace. Look for local selling groups in your neighborhood or community and join them.
Selling in the groups simple. Just take a picture of your item, describe it, list the price and post. Once uploaded, look for the feature to add to other selling groups.
In my neighborhood we use the term PP (Porch Pickup) when selling an item. When I list an item, I post as PP if it is under $10 and have the buyer leave the cash under the mat. We use the messenger feature to communicate when the video game has been picked up and the sale is complete.
Summary
Although video game titles and consoles change with the times, it still possible to get paid to sell your classic or new video games. And, you can do it online or in person.
Selling old video games can be an easy way to make a quick buck when you declutter your house or as a side business.
Have you ever sold video games online? If so, what route did you use? Feel free to share your experience in the comments section.